THE ADVANTAGES OF CENTRALIZED COLLECTION POINTS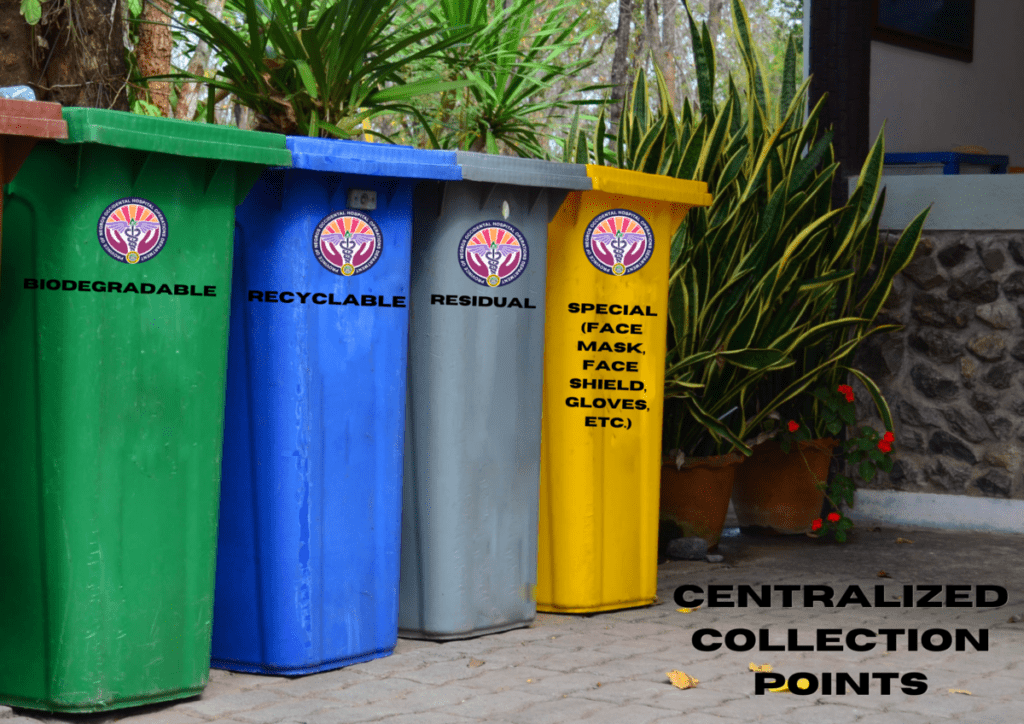 Do you get frustrated when you see a coworker toss a recyclable bottle into their personal trash can? Or do you have the impression that your coworkers are simply accustomed to disposing of waste beneath their desks without a second thought? If these questions resonate with you, this post is for you. When we illustrate that exchanging desk-side bins for a centralized collection point can improve their staff's recycling habits and increase diversion, most employers or property managers are surprised! If this sounds like something that could benefit your industry's recycling efforts, keep reading to find out more!
WHY SHOULD DESK-SIDE BINS BE REMOVED?
Individual desk-side bins are being phased out in offices, government buildings, educational institutions, and other settings in favor of a centrally located collection area. Moving to centralized collection points has several advantages, including increased waste diversion and lower custodial and labor costs. While throwing waste in the desk-side bin may be the more convenient option, it does have consequences. It encourages employees to toss trash and recyclables beneath their desks without thinking about it, resulting in high custodial and disposal costs and low recycling rates. Although employees may be annoyed or inconvenienced by having to go to a centralized location to dispose of waste, the benefits of this collection program far outweigh the drawbacks.
PERKS OF CENTRALIZED COLLECTION POINTS
RAISES THE LEVEL OF CONSCIENCE AMONG EMPLOYEES
Employee recycling behavior is completely altered when desk-side bins are replaced with centralized collection points. Rather than simply tossing garbage beneath the desk without a second thought, this method requires staff to approach the containers, where signage and sorting information is clearly visible. The clearly marked containers make sorting materials simple, preserving the quality of valuable recyclables and encouraging businesses to repurpose more!
Raise Recycling Rates
Because it fundamentally alters the way materials are collected, the central collection system achieves high recycling rates. The clearly labeled bins keep materials separated and clean, and the signage informs staff that many of the materials previously classified as waste are recyclable. Most business owners and managers we speak with are surprised to learn that centralized collection points result in more recyclables collected than desk-side bins. Businesses will begin reducing recycling stream contamination and increasing recycling rates within the first month of switching to centralized collection points!
LOWER DISPOSAL AND CUSTODIAL FEES
The elimination of desk-side bins has the added benefit of lowering your company's disposal and custodial costs. Most businesses save money because custodial staff no longer need to go from desk to desk to collect waste. Instead, they can concentrate on other tasks and spend less time servicing individual waste bins. 
SETTING UP YOUR CENTRAL COLLECTION POINTS
Obtaining employee and custodial staff support is an important first step in the process. Place your new containers in high-traffic areas such as the kitchen or break room to make it easier for your employees to dispose of waste and recyclables. It is best practice to place your trash and recycling containers next to each other to enforce material separation and keep your containers clean and valuable. To accurately represent each stream, ensure that each container is labeled with clear color-coded signage. Begin your new program by sending a company-wide memo or announcement outlining your commitment to waste reduction and how the new program will assist your company in meeting its repurposing goals.
Discuss how accepting these minor changes will have a significant positive impact!
The transition from desk-side bins to central disposal centers is ideal for businesses of all sizes looking to increase recycling rates and reduce disposal costs. If employees are initially hesitant or feel inconvenienced by the removal of their desk-side bins, emphasize the benefits of moving to centralized collection bins. Of course, if you require assistance, our team from HOD will assist you with the design and implementation of any system setup that you require.  Please leave a comment or contact us. Thank you for joining us in reading!